Kerry Life Skills Introduction
Kerry Life Skills is a county-wide project based in Kerry ETB that supports the wellbeing of young people in Kerry by working in partnership with schools, families, communities and other agencies. The work of Kerry Life Skills is particularly focussed on supporting The Wellbeing Promotion Process in schools. Kerry Life Skills do this by building capacity in schools and enhancing existing structures with the ultimate aim of empowering school communities to make choices that support the wellbeing of all. This is achieved by working, in line with international best practice, across a continuum of support: support for all, support for some and support for few.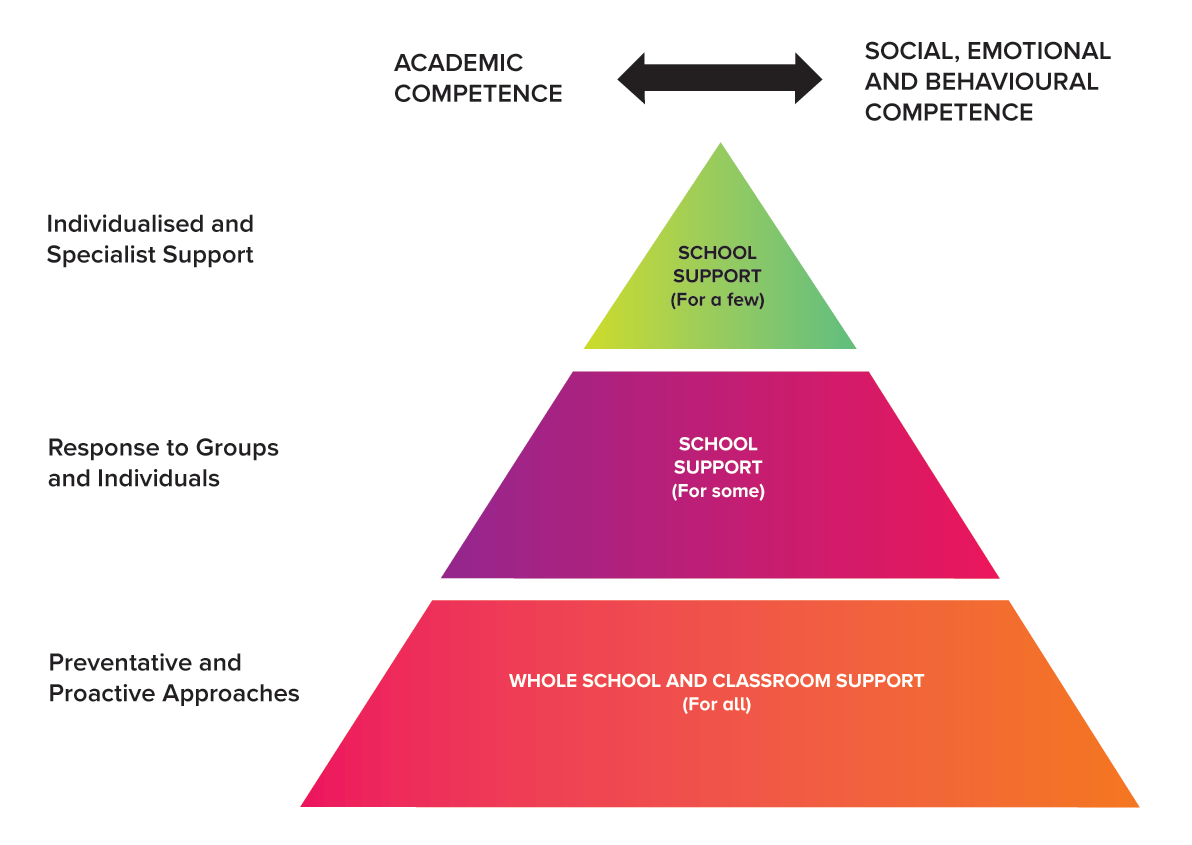 Support for all- Building Capacity
Kerry Life Skills support wellbeing promotion in schools by engaging with school communities across the following four areas:
culture and environment
curriculum (teaching and learning)
policy and planning
relationships and partnerships
A programme of coordination and capacity building is currently in development in line with the Junior Cycle Wellbeing Guidelines (DES, NCCA, 2017). This programme aims to build on the strengths demonstrated in schools all over Kerry, while supporting schools through reflection and self-assessment to identify areas for growth.
Support for all- Universal Wellbeing Programmes
Kerry Life Skills universal post-primary school programmes are designed to support the planned and comprehensive wellbeing promotion work done in schools every day. Kerry Life Skills programmes are in line with best practice guidance as outlined by Department of Education and Science Circular No. 0043/2018.
Some of the best practice demonstrated by Kerry Life Skills includes:
Programmes are part of a whole school approach and address an identified need and are delivered to class groups with the involvement of school staff with the appropriate involvement of parents/carers.
Kerry Life Skills programmes enhance protective factors which predispose students to positive outcomes in the face of adversity such as: facilitating supportive adult- pupil relationships, strengthening life skills, helping students believe in their capacity to overcome hardship and building a sense of mastery over life circumstances.
Programmes adopt a planned implementation process, for example, incorporate needs analysis, use evidence informed programmes and track and evaluate outcomes for students
Kerry Life Skills programmes are implemented and used in a school in a sustained way over a number of years.
Programmes are interactively delivered and keep student voice at the centre of programme delivery.
Programmes are evaluated by students and teachers with regard to the subject matter, messages communicated, methodology and proposed learning outcome.
Kerry Life Skills work with school communities, including parents and staff to help identify and develop the protective factors that enhance the wellbeing of young people. This work aims to support and build on the existing partnerships between schools and families, an essential relationship in the wellbeing of young people.
Kerry Life Skills support for all is conducted within the context of the following policy documents
Wellbeing Policy Statement and Framework for Practice 2018-2023 (DES, 2018)
Junior Cycle Wellbeing Guidelines (NCCA, 2017)
The Framework for Junior Cycle (DES, 2015)
The National Children's Strategy: Our children, their lives. (Department of Education and Department of Health, 2000).
Healthy Ireland: A framework for improved health and wellbeing. 2013-2025. (DOH, 2013).
Better Outcomes, Brighter Futures: the National Policy Framework for Children and Young People 2014-2020. (Department of Children and Youth Affairs).
Framework for Developing a Health Promoting School, Well-Being in Post-Primary Schools Guidelines for Mental Health Promotion and Suicide Prevention (NEPS, 2013)
If you are interested in reading more about the role of student voice and the social validity of Kerry Life Skills work Comhairle na nÓg.
Support for Some and Few- Student Support Teams
Each school in Kerry has a Student Support Team who have responsibility for the care and support of all students and particularly those students who are vulnerable and in need of additional support to participate fully in school. Kerry Life Skills under the governance of Kerry ETB lead an inter-agency collaborative support programme to support these teams across all schools in Kerry. The training and support model has been collaboratively developed by the following agencies: NEPS, CAMHS, NCSE JIGSAW, SWC, KACS and HSE Suicide Prevention with Kerry Life Skills and the Kerry ETB providing the lead co-ordinating role.
This model has been developed within the national policy context, is in line with the pilot programme being developed by NEPS nationally and should be understood in reference to the following policy documents:
Healthy Ireland- A Framework for Improved Health and Wellbeing 2013-2025
A Vision for Change-Report of the Expert Group on Mental Health Policy 2006
Connecting for Life- Ireland's National Strategy to Reduce Suicide 2015-2020
Wellbeing in Post-Primary Schools Guidelines for Mental Health Promotion and Suicide Prevention. NEPS 2013
Student Support Teams in Post-Primary Schools, NEPS
Furthermore, the development process and model itself has been informed by extensive consultation with school principals, teachers and stakeholders. It is grounded on previous work relating to student wellbeing and suicide prevention including:
Limerick and Clare Education and Training Board Student Support Team Model
Killarney Schools' Mental Health & Wellbeing Pilot Project 2016
Student Support Team Model, St. Laurence College, Loughlinstown, Dublin.
Rationale and Training Content
The following graph outlines broadly the role of Student Support Teams in schools, the overall aims of the training programme and the expected outcomes.
Role of Student Support Teams
Coordinate supports available
Assist with early and effective interventions
Contribute to the wellbeing of whole school community
Facilitate effective links with external agencies
Ensure all staff are familiar with policies and procedures
Aim- Support schools to ensure effective student support teams
Induction training for teams
Explore role and function of teams
Develop effective links with external agencies
Develop efficient systems across school teams including data collection and communication
Introduce best practice in self-care and supervision framework
Needs-based ongoing support for teams throughout year.
Expected Outcomes
All students supported effectively
Improved collaboration with services with a reduction of inappropriate referrals
Teams functioning preventatively and responsively
Increased resilience across school community
Shared best practice
Impact on wellbeing of few-some-all
Teacher wellbeing supported and best practice sustained
Training is delivered across three days with facilitation shared amongst the partner agencies involved. This allows for a sharing of expertise and the meaningful development of relationships. Schools nominate two/three key members of their team to participate in the training on an annual basis. This means that over time a schools entire team will be trained in a consistent approach and develop the necessary relationships with the relevant external agencies.
Agencies Facilitating: Kerry ETB, NEPS, CAMHS, NCSE, TUSLA, SWC, KACS, JIGSAW and HSE Suicide Prevention.
Response to SST Support Model
Throughout the training process participants have engaged in an evaluative assessment of how the model meets their needs, and the quality of both content and delivery.
It is worth noting that anecdotal evidence from the schools participating in the training is that they have already seen the impact of the training in their schools. During focus group consultations the following particular points were made:
Improved communications and collaborative approach with external specialist agencies with regard to referrals, pathways and ongoing support for vulnerable students.
More developed understanding of the role and function of the teams in broader context of school wellbeing promotion.
Heightened awareness of the need for self-care and peer support throughout team.
Increased understanding of critical incident plan in school and role of team members.
Greater capacity to identify and focus on in-school interventions for vulnerable students.
Multi-Agency Support for Kerry Life Skills Project
While Kerry Life Skills collaborate with a broad range of services and agencies engaged with young people in the area of wellbeing the project is directly supported by Kerry County Council, TUSLA (Children and Young Persons Service Committee) and Kerry ETB. The vision and commitment of these agencies in supporting young people in Kerry is greatly appreciated.