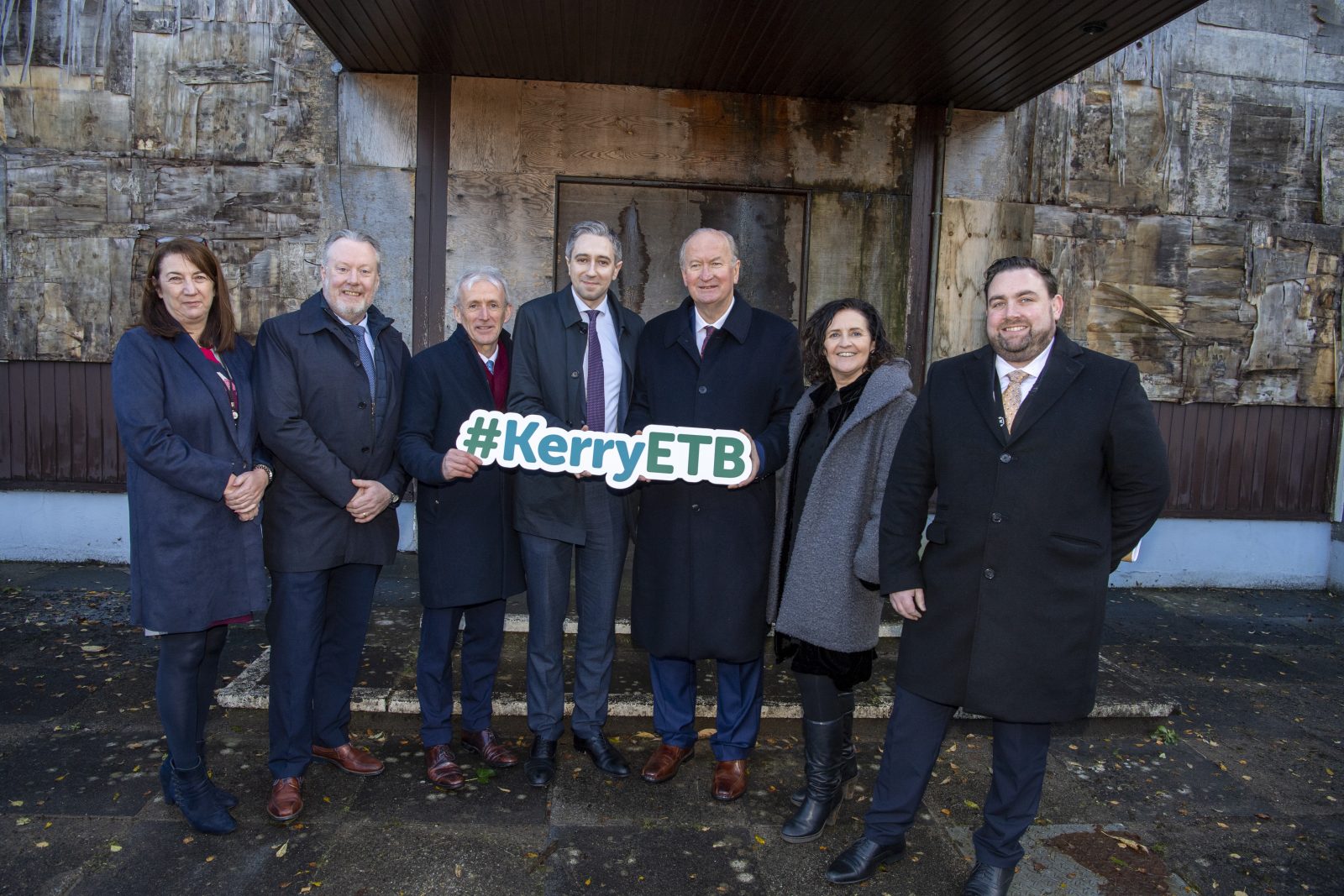 Kerry Education and Training Board (Kerry ETB) welcomes the announcement today by Minister for Further and Higher Education, Research, Innovation and Science, Simon Harris TD giving the green light for Kerry ETB to proceed to the next stage in developing a College of The Future (COTF) Campus in Killarney.
On February 14th 2022 the Minister announced a new €430 million capital programme for the further and higher education sector. In responding to a call for submissions, Kerry ETB prepared and submitted a Strategic Assessment Report (SAR) for the establishment of a Kerry College Killarney Campus. The development of a Further Education and Training (FET) Campus in Killarney has been a long-held ambition for Kerry ETB.
The proposed campus when developed will include, a National Centre of Excellence for Hospitality training, a National Centre of Excellence for Renewable Energy and Sustainable Green training, a Regional Centre of Excellence for Apprenticeship training and a Regional Centre of Excellence for Lifelong Learning, providing training opportunities with capacity for over 3000 learners per year.
The project proposal involves the repurposing of the existing buildings of the former Sara Lee and Pretty Polly factories in Killarney.  The site is circa 2 hectares (4.94 acres) with existing buildings footprint of circa 11,000 square meters, primarily comprised of the original single-story factory building which as constructed in the late 1960s with production ceasing in 2009.
Speaking today, Minister Harris said: "This is a brilliant day for Kerry. Killarney has been chosen as one of ten locations to proceed to develop a further education College of the Future.
"The College of the Future Major Projects Fund will support the implementation of the vision set out in the Further Education Strategy. This Fund, and proposed for development in Killarney has the potential to deliver on a range of strategic objectives, including driving economic growth and social development, providing digital teaching and learning facilities, the expansion of courses delivered and the creation of centres of excellence. It is great that the Killarney proposal will now proceed to a business case.
In welcoming this announcement, Cllr. Jim Finucane,  an Cathaoirleach Kerry ETB stated "This is a very good day for Kerry ETB. The Board of the ETB at the October 26th 2021 Board meeting approved ETB executive to complete the high-level proposal for the development of Kerry College Campus in Killarney. Following on from the recent announcements of significant funding for FET Campus development works in Tralee and Listowel, I would like to thank Minister Harris for his continued support of further education and training in Kerry. This announcement supports Kerry ETB's work in ensuring that the learners of Kerry have access to further education and training opportunities locally and I wish to thank the CEO, Director of FET and all the team for progressing this proposal to this stage".
The site is located just off the N22 National Primary Road offering ease of access from all major road routes into Killarney. The site also provided for ample onsite parking with less than 2 kilometres access to the Killarney town centre and Bus/Rail stations.
The CEO of Kerry ETB, Colm McEvoy added, "We welcome today's announcement by Minister Harris TD following the assessment of our Strategic Assessment Report for this proposal. Kerry ETB is delighted to get approval to proceed to the next phase in this process and develop a formal business case. We are determined to bring this project to reality and work will commence immediately on developing the business case. When completed this new campus in Killarney, which is fully aligned with the organisations commitment to supporting lifelong learning, will provide a regional and national FET campus of excellence that will benefit thousands of learners and support local, regional and national development. I wish to thank the Department for Further and Higher Education, Research, Innovation and Science and SOLAS for their continued support of our vision for the future of further education and training across County Kerry."
Courses on offer in the developed campus will include courses such as Culinary Arts, Hospitality Management and Operations, Bar Skills, Barista Skills, Passive House Retrofitting, Smart Meter Installation, Wind Turbine Blade Repair, Electric Vehicle Motor Maintenance, Fibre Installation, Welding, various Apprenticeships, Pre-apprenticeships, Software Development and a full range of evening/part time course provision.
The Director of FET, Owen O'Donnell is looking forward to advancing this proposal and stated, "Since the establishment of Kerry College in 2019 a lot of work has been progressed in aligning our FET provision to the FET College of the Future model. Killarney is a major urban centre in the county and the development of a FET Campus in Killarney has been an objective of Kerry ETB for many years. With the increased emphasis nationally on the value and importance of apprentices in supporting continued economic development, this new campus will provide the ETB with a great opportunity to expand our existing provision and develop new apprenticeships and further education opportunities for learners".
End
Notes:
Kerry Education and Training Board was established on July 1st 2013. The training function formerly provided by FÁS was integrated into the ETB on January 1st 2014 following the establishment of SOLAS in the autumn of 2013 as per the provisions of the Further Education and Training Act 2013.
In September 2019 Kerry ETB established Kerry College of Further Education and Training as a pilot initiative with the support of SOLAS. Kerry College when established integrated into a single college structure with the provision of the former training centre and post-leaving certificate college. The evolution of Kerry College since 2019 was documented in 2021 in a entitled: "The Evolution of Kerry College 2018-2021" which can be accessed at Kerry College Evolution Report
For further information please contact: Lisa O'Flaherty
Email: loflaherty@kerryetb.ie
Phone: 086 075 3038