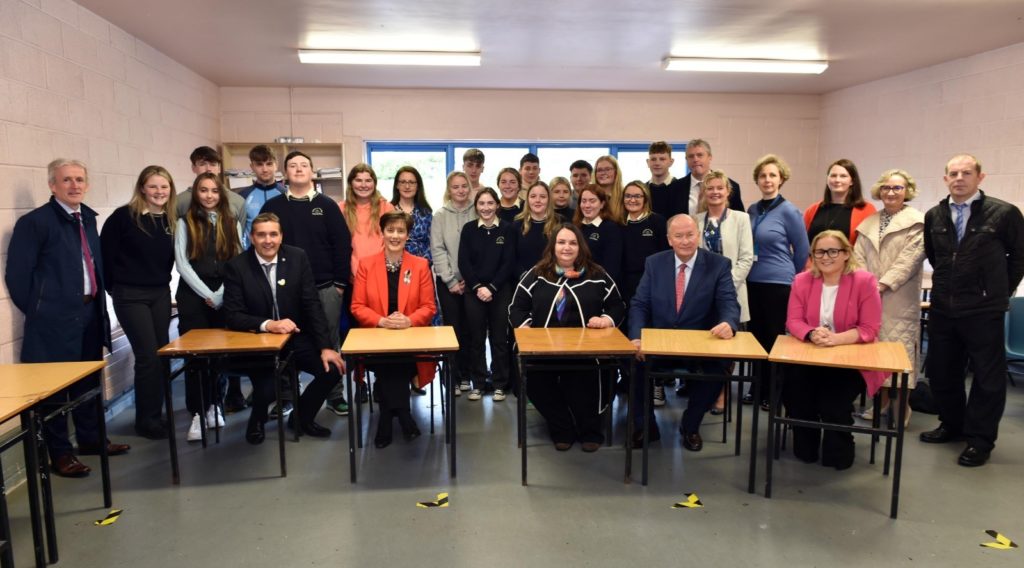 Kerry Education and Training Board (Kerry ETB) and Coláiste Na Sceilge welcomed a visit from the Ukrainian Ambassador to Ireland, Her Excellency Larysa Gerasko, on Monday, May 23, 2022.
The Ambassador's visit to Caherciveen school, Coláiste Na Sceilge, followed an invitation sent by Kerry ETB earlier in the month.
The Ambassador was accompanied on her visit by Minister for Education and Kerry TD, Norma Foley.
The organisation invited the Ambassador to South Kerry, particularly due to the significant number of Ukrainians welcomed by the local community in recent weeks. According to Department of Education figures, over 550 Ukrainian students have been enrolled in Kerry-based schools, with Kerry being one of the most popular county destinations after Dublin.
Kerry ETB School, Coláiste Na Sceilge, has welcomed 34 students.
Minister for Education Norma Foley TD said: "I am extremely proud of how our school communities in Kerry have so warmly welcomed students from Ukraine. There has always been a tradition in our schools of welcoming children and young people from any part of the world, and we stand now in solidarity with the people of Ukraine in this terrible time for their country.
"I would like to thank all the members of our school communities for making the students and their families so welcome. I would also like to thank Kerry ETB for its work in the regional education and language teams (REALT) that we have now established across all 16 ETBs. They play a vital role in ensuring access for students to education."
Speaking at the event, School Principal Maurice Fitzgerald said:
"As a Kerry ETB school, our ethos is informed by the core values of respect, care, equality, community and excellence. True to our ethos and values, we welcome the Ukrainian community to Coláiste Na Sceilge, and it is our hope and expectation that they will grow and flourish during their time with us."
The Department of Education assigned Kerry ETB responsibility to coordinate the multi-agency Kerry Regional Education and Language Team (REALT) as part of the Irish Government's Ukrainian Response. The organisation has been working with Ukrainian families arriving in the county, endeavouring to support them at this time of great difficulty.
Kerry ETB delivers primary, post-primary and further education and training (FET) to students and learners of all ages across the county – including local facilities Coláiste Na Sceilge, O'Connell FET Centre, Tech Amergin FET Centre, Killorglin ABE and Killorglin VTOS.
Chairperson of the Kerry ETB Board, Councillor Jim Finucane, said: "The people of Kerry have wholeheartedly supported this effort, and I am remarkably proud to be here today to experience first-hand our shared response."
During her visit, Ambassador Larysa Gerasko met with Ukrainian students, their families and the supportive community. The Coláiste Na Sceilge Student Council also invited the Ambassador to plant a Willow tree on the grounds – a symbol of hope, a sense of belonging, and safety. Furthermore, the ability to let go of the pain and suffering to grow new, strong and bold.
At the event, Kerry ETB Chief Executive Officer, said: "I want to thank the Ambassador for visiting Coláiste Na Sceilge today to meet with our Ukrainian students and their families. Today brings a real focus to our work assisting people from Ukraine."
The event was attended by the local community and stakeholders, including local primary schools and the Caherciveen Interagency Forum, a forum led by the South Kerry Development Partnership, whose response to the crisis has been nothing short of phenomenal. Also in attendance was Kerry Council County Chief Executive Moira Murrell, who chairs the weekly meetings of the county's Ukrainian Interagency Community Response Forum.